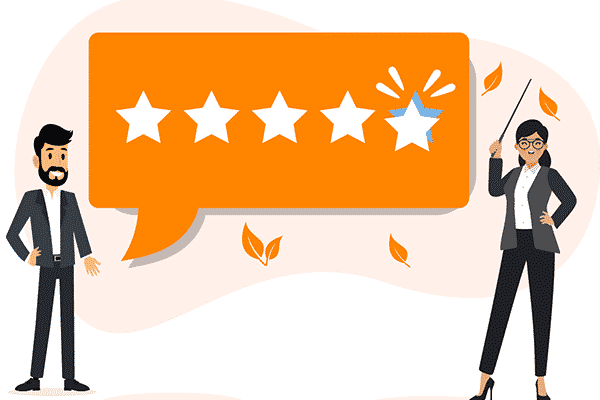 Improve your feedback score, rank higher, and sell more!
The process of buying goods online can generate business issues and be quite alienating. Though customers are able to access information about the product they're buying, the transaction can still be completed in an unsatisfactory way. For instance, a small detail not mentioned in the product description or any glitches in the delivery process can make the difference between a satisfied customer who goes on to shop again and a disappointed one who then shops elsewhere.Online sellers need a system in place that allows customers to leave feedback and see feedback from other shoppers. Where complaints are concerned, a feedback platform can give the merchant the chance to see and respond to them. When it comes to positive feedback, there are a number of benefits like other customers will be able to see the positive comments and can be impressed by the way you handle negative ones. Customer feedback has benefits for a website's Search Engine Optimization.
How to manage feedback management proactively?
Once you deliver the item, a customer can review your product and leave feedback within 90 days. And, it can be removed within 60 days.The feedback from customers causes an immediate impact on your business reputation. Negative feedback can turn off all your potential buyers. You need to come up with a seller feedback management strategy to fuel your success. It is very important to monitor your feedback and resolve your customer issues, if any.
A proactive approach and following these steps to address your customer issues will definitely have a positive impact on your business.
1. The feedback should be reviewed.
2. An appropriate proposition should be thought out to solve the problem.
3. You need to approach your customer very politely.
4. Patiently wait for their response.
5. Effectively solving the issue.
With time, a better strategy can be formulated after getting more access to data and a proactive approach can be taken towards seller feedback management on Amazon.
The best for maximizing customers' trust is to use an independent feedback platform.
Having a Feedback Management Tool is the only way to make sure your customers are listened to at every stage of their shopping journey. But listening and solving the issue isn't enough. You need to value customer opinions, make informed decisions based on their feedback.
Listening to your customers and acting on feedback quickly and effectively is one of the best ways to build a loyal customer base. A loyal customer base means more referrals, more customers and, ultimately, a higher revenue for your business.
The tool primarily automates buyer-seller messaging, allowing you to auto-request feedback and product reviews with triggers including tracking information showing delivery.
KartKonnect will gather and analyze customer feedback then add it to an easy-to-use dashboard called "The Konnectboard". The tool will process any type of customer data in the form of text such as Ratings and Reviews, surveys and customer center data, analyze it, and generate meaningful reports.
The tool will help you take a more customer-centric approach by predicting what your star rating will be if you decide to take certain actions.
The platform will also let you focus on rating and sentiment trends, popularity, and category trends.
This means you can use Konnectboard to make more informed and data-driven decisions.
It will compare your products against competitors, help you track important features you might be missing, and provide you with an overall insight about how well your product is doing.
It is a perfect way to get a clear view of what your customers really think, and this will give you an edge over your competitors.
We are working on the tool and will be ready with this feature-rich tool shortly.
Some of the features are listed below.
Features of Feedback Management Tool
1. Convenient moderation panel
2. Saving feedback to the database
3. Detailed statistics
4. Gain insights to optimize your campaigns
5. Automatic cross posting in the social network
6. Analyze your Amazon sales data with ease
7. Monitor your Amazon account health
8. Get notified on negative feedback and reviews