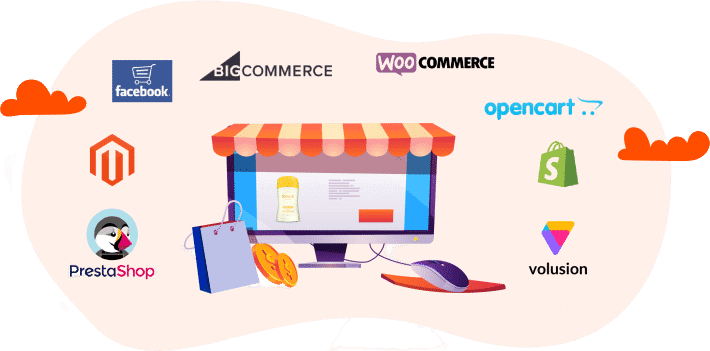 MultiChannel And MultiVendor System
KartKonnect's Multi-Channel Multi-Vendor System facilitates e-commerce vendors in setting up two or more marketing channels. This way, you reach a wider audience and constantly work towards increasing your clientele. Our services combine the multi-channel and multi-vendor systems to give you a unique plan for your online business.Now you need not get lost among your channels. Manage your channels, create your product listings, and accelerate your sales with one single platform.
How Does KartKonnect Do It?
With multi-channel systems, you will be able to sell the same products across multiple platforms.
KartKonnect provides customized integration for drop shipping platforms, online marketplaces and e-commerce webstores. This assist in the automation of data exchange operations. Integrating this aspect with a multi-vendor system approach provides you with an even more efficient business function.
Why opt for our multi-channel and multi-vendor system?
KartKonnect believes that the best possible way to amplify your sales is to widen your network. Using a customized system that incorporates all the facets well as per your liking is the perfect approach!
Here are some of the benefits you will be entitled to with our multi-channel multi-vendor system feature:
1. Enables you to reach a wider client base
Our multi-channel system connects you with your customers through varying platforms. Moreover, our services are very helpful when you have your products listed on marketplaces like Amazon, eBay, Walmart, etc. and even on your own websites or webstores like Shopify, Bigcommerce, Magento, etc.
Your customers could be anywhere across the internet on different apps, platforms, and websites. With our customized services, we help you reach them conveniently.
2. Improves customer engagement, conversion rate, and profits

A multi-channel system multiplies the number of customers you reach. Moreover, it also helps you achieve a hike in the engagement rates too. The more clients you reach online, the higher will be your conversion rates.
3. Automated data exchange operations
Data exchange in the eCommerce business is very important. KartKonnect serves as a single platform for its clients where they can integrate vendors on one side and webstores on other. We also provide integration for various dropshippers or wholesellers, depending on your requirements.This way, your data exchange is automated, and you have a record of your receipts, invoices, and shipping details with you at one place.
4. Data-drive campaigns are the road to success
A multi-channel system allows you to understand where your most active customers are. This data could also help you take informed decisions with respect to your product range, quantity and the prices.
Using this information, you can draw up the right marketing campaigns that can display your products when a customer uses Google to search for the same. Your products can appear in the main search engine results page or under the shopping tab.
5. Never risk unexpected inventory mistakes again
KartKonnect keeps it simple, saves you time, and increases your sales. Now track the movement of goods from warehouse to warehouse or from warehouse to FBA.
You can also set priorities at the product level and we'll route orders to a warehouse based on available stock. Also, sync stock with varying product identifiers such as different SKUs or UPCs as one product.You can easily manage products assigned to different SKUs across each distributers or warehouse. KartKonnect will update your total quantity (a sum of all your warehouses) across all integrated channels.
Opt for nothing but the best. Opt for KartKonnect.
KartKonnect believes in providing you with exemplary services customized for your business. All business requirements differ from KartKonnect believes in providing you with exemplary services customized for your business. All business requirements differ from each other, and it is essential that we understand them. Our multi-channel and multi-vendor systems ensures a wider market for your business on various eCommerce platforms. Along with this, our services give you the opportunity to capitalize on all your assets optimally.