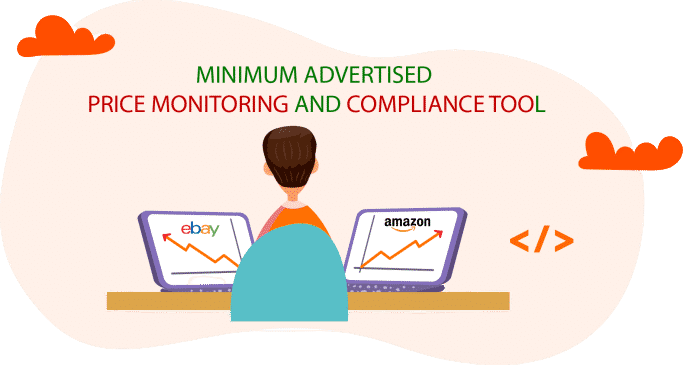 Manufacturers constantly monitor MAP or Minimum Advertised Prices for their products to find MAP violations, if any. This becomes a bottleneck for retailers to keep a check on the price of multiple products across multiple channels. KartKonnect's customized MAP monitoring tool allows retailers to maintain the MAP price on all the channels simultaneously.
You can make sure all your products on different channels are priced fairly with our MAP monitoring tool. Manage your channels using our advanced services and forget about the hassle you endured before. 
How can KartKonnect's customized MAP monitoring tool help you?
Rest assured that stress-free management is not the only thing you can expect from our MAP monitoring tools. This service is great for retailers across the internet to help them carry out their business functions with ease. 
Here are a few benefits you will experience using the MAP monitoring tool that KartKonnect has to offer:
1. Keep your suppliers in check 
With the help of our customized MAP monitoring tools, you can keep a check on the prices of your products. When you continuously monitor your products, there are no or minimum chances that you violate the MAP set by the manufacturers. This way, you can ensure your products are sold at the correct price point without any discrepancies.
2. Save time
KartKonnect's customized tools help you effectively manage your product listings across multiple marketplaces at one single platform. If you want to save time and money, you can make use of our MAP monitoring services and monitor all pricing simultaneously. Our MAP monitoring tool gives you real-time results, which is generally not the case when you monitor listings manually.
Even if you hire a team of employees who only manage the monitoring aspect of your supplies, you will be spending a lot of capital on it. Our service is a great alternative that can help you save money and time instead.