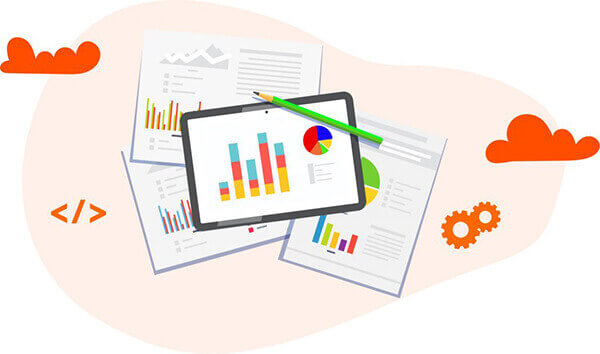 The future of a business is never certain. There is always the pressure of taking fruitful business decisions and minimizing risks. This decision making can be made easy with the help of predictive analysis tools. Having forecasting tools can help sellers use this knowledge to their advantage and achieve maximum gains in their businesses.
KartKonnect provides you with predictive analysis and intelligent tools to help you grow your business.
Once you've integrated sales channels such as Amazon and eBay, we'll use your collected data to produce different business reports accessible whenever you need them.
What is predictive analysis?
Predictive analysis refers to obtaining meaningful information from huge amounts of raw data. The data is used to predict the behavior patterns of the future. Along with data, the predictive analysis uses statistics and machine learning to create a predictive model.
A business goal is a pre-requisite to perform predictive analysis. A seller could have different goals like increasing sales, reducing cost, less stocked inventory, etc. A predictive analysis tool will exploit the hidden patterns present in the historical data to identify opportunities for achieving a business goal.
How can predictive analysis increase your business?
Customer needs and choices keep changing repeatedly. It could be tough for a seller to identify and adapt to these changing demands. Knowing your customers is a pivotal task in ensuring your business attains its highest potential. KartKonnect's customized Predictive Analysis tools can help to achieve this for maximum customer retention.
With our tool, the seller can be aware of any fluctuations in the market beforehand. This will help in taking appropriate steps to tackle the same.
Predictive analysis tools are beneficial at every stage of a sales process. With our tool, you can analyze your customers based on multiple factors. These include demographic data like gender, sex, socio-economic category, and occupation. Geographic data, like customer location, is also taken into consideration. After the analysis is over, the seller will know who is likely to be its most loyal customers.
With the help of our services, you can also ensure to get guaranteed profits. The tool helps you make informed decisions so that you can suggest customers items they have higher chances of purchasing. Random cross-sells and up-sells don't add much value to your revenue. Our tool can also help you predict which customer is likely to end business with you. If you already know that beforehand, you can give them an incentive to stick around.
How to use our predictive analysis tools?
We have developed predictive analysis and various intelligent tools to help sellers make better business choices. Assume that you are a seller who sells night lamps and wants to know the top buyers of your product.
So, all you need to do is, specify the goal you want to achieve and apply filter criteria. Once all the relevant data is entered, it begins its predictive analysis on the basis of past patterns. The result is displayed to you in the form of easy, understandable graphs.
KartKonnect : The perfect choice for your business
KartKonnect's customized predictive analysis tools empower you to make the right choices for the right customers at the right time.1. Sale Forecasting Tool will empower you to make Smart Predictions and Auto Calibrations. Knowing about the Sales numbers, Total Revenue and Profit and Loss Reports will help you assess the untapped areas of growth.
2.Data Comparison like Historical Data Comparison, find avenues of growth and identify warnings beforehand.   
3. Out-of-the-box Suggestions like Identify Bestsellers, Idle Products and High Margin Products
4.Comparative analysis of your competitors, you can leave your competitors behind.
5. Demand Forecasting Tool help you in identifying the specific wants and changing wishes of the customers. This makes it easier for you to achieve them.