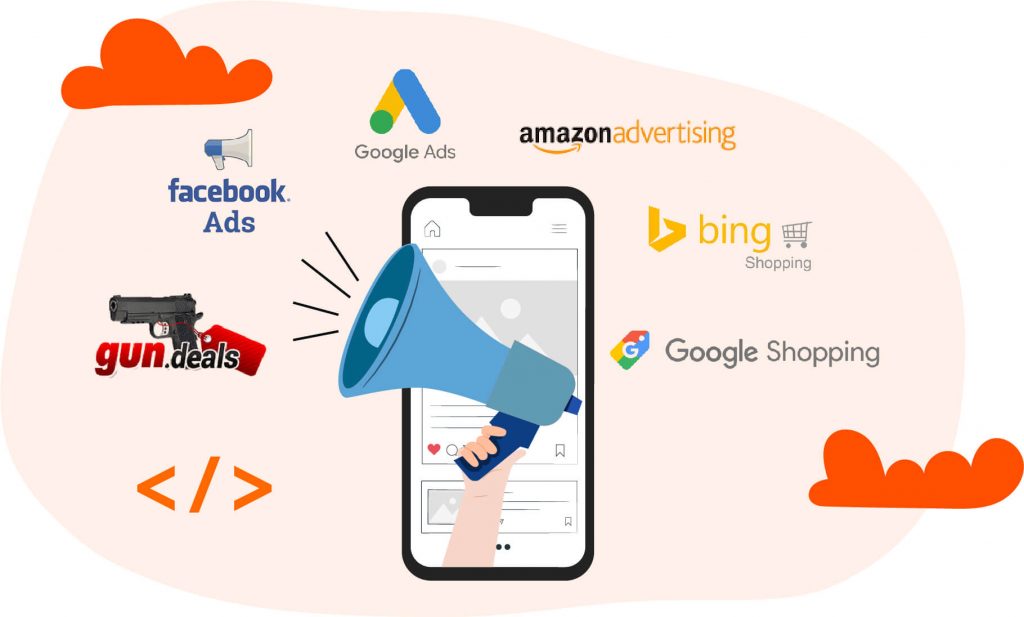 Marketing Merchant
Center Integration
More traffic, more opportunities to sell, more sales!
Website marketing is the strategic promotion of a website to drive relevant traffic to the site. The goal is typically to attract people who may be interested in a company's products or services. More traffic coming to a site means more opportunities to put your value proposition in front of potential customers.To promote your website, you need to know about Marketing Sites and how they work. KartKonnect software provides functionality to integrate multiple marketing sites or merchant centers with a single website.
You can promote your website products on following Marketing sites 
Google Shopping is a Google service which allows users to search for products on online shopping websites and compare prices between different vendors and then point you directly from where you can buy them.
How Google Shopping works?
1.Google Shopping enables users to view product information from merchants that is updated on a regular basis by the merchants.
2.Online retailers submit feeds on Google Merchant Centercontaining product information to Google Shopping and pay each time when someone clicks on their website or makes a purchase directly from their site.
3.Since this product information comes directly from the merchant, this means we are able to show the current prices, latest offers and current product availability.
Bing provides a variety of search services, including web, video, image and map search products. It is developed using ASP.NET
1.A merchantwho would like to run Product Ads campaigns on Bing, uses Bing Merchant Center.
2.It allows advertisers and retailers to provide details that help in sale of the product.
3.Bing Merchant Center allows you to create a catalog, which includes images and other information about your products, so that your products can display on Bing
Gun.deals is a place where users and visitors share the best gun related deals that they find across the web.
Gun.deals is not selling firearms, ammunition or accessories.
Gun.deals simply browse the web for the best deals available for purchase online or in retail stores.
By clicking on Visit Deal on the product page, it will take you to the seller's website where you can purchase that particular product.
PriceGrabber is a price-comparison shopping site and distributed content commerce service.
The company partners with merchants, retailers, and sellers to provide information on a wide range of products.
PriceGrabber.com was the first comparison-shopping engine to project tax and shipping cost information for a consumer during the price comparison process.
PriceGrabber.com helps users to easily search and compare millions of different products from different sellers